Kollnburg was first mentioned documentarily in the year 1153 The ancestors of the people of Kollnburg settled on rocky, low fertile hills, as the old village names Kalenberg, Kalleberg or Kahlenberg show. The beginning of colonization, however, is likely to be attributed to the early Carolingian time. These early settlements already explain the fact that Kollnburg used to lie at the ancient trade route, the Bayerweg (today known as the distance hiking path from the Danube Donautal over Kollnburg to Böhmen), which was of great importance at the time of migration.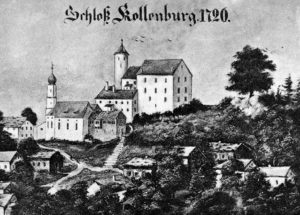 The castle served to protect the treasure of the "Grafen von Bogen", who dominated the whole Mid-Bavarian Forest from Bogen to Cham, Furth i. Wald and Deggendorf up to their extinction in the year 1242. According to a legend there should be a treasure buried in the castle tower buried, which has not been found yet. Moreover, an underground corridor to the opposite castle Neunußberg is said to connect the forts. In the beginning of the 19th century separate property and land owners evolved gradually. More and more people settled down at the small and tranquil village. In the'50s the first "Sommerfrischler" came to Kollnburg so consequently the tourism industry, became an additional branch of industry to craftsmen and farmers.
In 1971 the Kollnburg community and the community Rechertsried joined to a community unit and in 1978 the territory was enlarged under the territorial reform by the formerly autonomous communities Allersdorf and Kirchaitnach. The highest mountain is the "Kasten" with a height of 828 m. In the vernacular, however, the Pröller is seen as the "home mountain" as the mountain with the highest elevation of 1,048 m., even though its peak is located in the parish of St. Englmar.